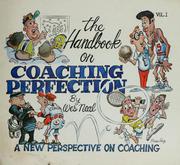 Each season, I try to review Wes Neal's HANDBOOK ON COACHING PERFECTION. My Dad had a copy of this book and it is a great resource for how to run a football program in a Christ-like way.
Because of the violent nature of football, my Dad asked my grandmother in the 1950's... "Can you be a Christian and be a football coach?" Fortunately there have been hundreds of GREAT examples to prove that yes, Christians can coach football. But, it is also an insight into some coaching methods that are not consistent with being a follower of Christ. From some perspectives, Wes Neal's book would be considered radical. I am ok with being radical , especially for the right reasons!
This year and for the first time ever as a head coach, I prepared a questionnaire modeled after the one in his book. I have modified it to fit into a public school. I don't hide my faith, but I also believe God wants me to obey the law. I also know that my actions and how I treat others are the most effective and appropriate way to share the Good News in a public school setting.
In 2018, part of the reason for this questionnaire is very practical. Already in June, I have talked to several coaches that will have fewer players than they expected this season. That is true for us at Mercer County as well. This questionnaire will be a concrete way that myself and our staff will be able to make a better connection to our kids and improve our relationships with our players.
Going into year 27, I need to be especially vigilante in evaluating everything I do as a head coach. We don't want our approach to become stale. We want our kids to get better everyday. The head coach needs to get better everyday as well!